[Nederlandse
partieel vertaling

beneden]
If you would like to read even more detailed description of the workshops you may read my book here: http://tantramovement.blogspot.ro/2016/10/all-aspect-of-life-all-aspect-of-tantra.html
This Course as a whole is created to help you go deep in to your inner ecstasy, bliss and healing. Are you ready for the biggest change in your life? Go for an intensive transformation of sexuality and love to the higher levels.
Here is a list of the workshops that may be included in the course. Whole course would contain 14 workshops which each would have different subject and would take around 3,5 hours. The choice would depend on the needs and energy of the group.
Finishing whole course could be honored by receiving the certificate of finishing first level in School Of Tantra Movement
Subjects of the course:
A more detailed description of these workshops is below:
1. Taste of Tantra. Introduction to the practise. (open evening )
2. Connection
3. Expanding the consciousness. Being here and now.
4. Love yourself - recognising your inner lover

5.
Theory about practise. Tips for improving your relationship with yourself, with your partner, with others, with animals, the whole of nature and the entire universe.
(open evening )


6. Sacred energy - worshipping your holy body, recognising your wild soul
7. Male and female energy
8. Sacred Sexuality
9. Dance with tantra
10. Communication of Love.
(open evening )

11. Preparing for awakening the

Kundalini

energy
12. Journey to Awaken the Senses ceremony
13. Secrets of

tantric

touch. Introduction to

tantric

massage
14. Closing and sharing of the whole course
A more detailed description of these workshops:
Ad 1: "Taste of Tantra" - Introduction to practise
In this introductory workshop we give small examples of simple safe exercises which you can continue practising later with your partner or on your own. Anyone following the instructions from this introduction may rapidly and dramatically improve her/his life. We let you have a taste of what tantra is, and what we teach as a whole course at the School of Tantra Movement.
 A little bit of everything:
- Theory; what tantra means to us and our practical use of it

- sexual meditation

- recognising and training the PC muscle

- open communication

- recognising your Inner Man and Inner Woman

- Awakening the senses meditation

- Breathing together in Shiva Shakti position
Ad 2: Connection
Nowadays, in modern times thankful technology we could contact each other even when we are thousands kilometres away. In the cities we are living so close to each other. Communication was never so fast. But still we are alienated like never before in human history. We never felt so lonely like now. Did we lost something on the way ?
This workshop is
to connect beyond capacity of mobile phones,
to build Friendship with big "F", deeper than making hundreds friends on facebook,
to feel Love with big "L" deeper than sending <3 through internet
to connect with real
nature beyond the discovery channel
To found what we lost, to find our deep nature, to connect with ourselves and other participants maybe deeper that you ever did even with your friends, with your family.
Tantra gives us tools to connect with all parts of you, connect with yourself, then connect with your partner, group, family, other people, animals, nature and whole universe. Beautiful slogan "We are one!" tantra is transforming from believe in to real experience. If you allow yourself to feel it, you would never be the same. You would never love in the same way.
That's why we choose this workshop in the beginning.
Ad 3: Expanding Consciousness.
We invite you to create space for expanding consciousness.
You will discover:
What consciousness is, and how to get ready to open yourself for full consciousness.
How to dissolve blockages in a conscious way and open yourself to a flow of love energy.
How in daily life we can develop and cultivate our inner consciousness.
Expanding consciousness is one of the main purposes of tantra. In this workshop we are going to awake, discover, explore and expand consciousness of here and now, consciousness of female and male energy, consciousness of the witness, consciousness of energy... This workshop may open your eyes, heart and mind in a way that you will never be the same again.
Ad 4: Love Yourself!
Loving ourselves is the foundation of real love, when we love ourselves we can truly love others. When we feel good about our self we will have the self-esteem needed to act in love towards another being. To truly love ourselves may increase the chance of amplifying the love shared
with our partners, family, animals, nature, the planet and the universe.
It has nothing to do with selfishness but rather with expanding love in a healthy way...
Ad 5: Theory about practise. Tips for improving relationship with yourself, with your partner, with others, with animals, the whole of nature and the entire universe.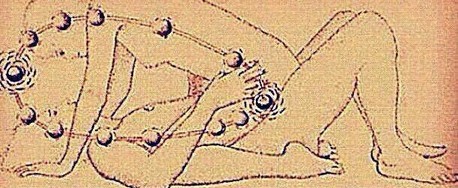 This is more of a lecture than a workshop. If you're new to tantra and would you like to find out more, to feel and see what is there for you, this would be good for you to participate in. There will be plenty of time for questions and answers
Ad 6: Sacred energy. - worshipping your holy body, recognising your wild soul
Together we create at the workshops a safe space in which we can experience transformational processes. Remember, however, that real change happens outside the comfort zone. We work in a group, in pairs and individually. This day we will focus on the flow of energy through the body, how we experience it and how to inspire and cultivate that.
What is blocking us and how can we be consciously permeable to those blocking energies?
The tantric path opens us to experience our own, our partner's and group's deep energy levels. With thankful Tantric and sexual Tao techniques, we become aware of subtle energies which link the apparent opposites: spirit and matter, sexuality and spirituality, light and darkness, consciousness and unconscious, masculinity and femininity.
By using the keys to the door of connections, to regain our inner strength, we are giving right direction to the flow of energy.
Ad 7: Male and Female energy
Nowadays not so many people are aware that within each of us exists male and female energy. It doesn't matter what sex we are, the balance of those energies determines our health, our contentment, our happiness and fulfilment in our relationships.
 In this workshop we meet the inner woman and man within us, and recognise their energies. We will hear from them how is to live with us, what are their needs, their concerns. How we can improve their (our) life...


We will get to know the differences between male and female bodies and learn how to approach them in a way that allows beautiful sexual energy of love to flow freely, not be forced or imposed on someone or be blocked by some wrong behaviour.
Ad 8: Sacred Sexuality

In this workshop we will go on a journey to the past to heal our memories mainly connected to our sexuality. We live in a society where very often sex is considered as something bad, dirty, that develops guilt and shame in us. We're going to heal our wounds with the intention to bring sacredness and pride to not only the genital parts of our bodies but to the whole concept of sex in our life. We're going to free ourselves from stereotypes what are stopping our love.


According to tantra, human sexuality is located in the centre of spirituality. Over the millennia, it was pushed only to have the role of procreating. The wider truth was available only to a few.
At the present time the consciousness of humanity is mature enough that the truth of the sacred sexuality is revealed to all.
The consciousness of humanity at the present moment goes beyond the circle of material activities and experiences. It rises together with the energy of the Earth. Old Masters are now revealing ancient mysteries that were previously available only for the elites.
Using those secrets could be the solution for all sort of crisis that humanity and individuals are facing today.
 On the other hand, we have at the present time wide availability of pornography, which massively distorts the image of human sexuality. On a large scale, we are bombarded with sexuality stripped of beauty, holiness , power, and intimacy....

At the workshop you will have the chance to deeply answer to yourself questions such as:
how sacred sexuality is different from regular sexuality?
 How can I have access to sacred sexuality in my life?
 In what way, based on sacred sexuality, I can shape reactions with myself , with a partner, with other people, with nature and the whole universe?

These and other questions will not get ready answers , but in a series of our workshops we offer the opportunity to experience the methods which can help you to expand your consciousness in the field of sacred sexuality. 

In this workshop we will focus on the dissolution of the concepts and blockages that accumulate around the topic of sexuality.
We will recognise patterns which we adopted from family, school, society, Hollywood movies, etc. To recognise the sacred sexuality, we will unfold the veil of ignorance.
 To achieve that we will use: 
movement, 
meditation,
 touch, massage, 
breath, 
play
 and communication. 

You may establish an intimate relationship with yourself .
You may enrich and raise to a higher level the relationship with your partner. 
You may attract into your life the partner/lover of your dreams.
You may heal the wounds from your sexual life and those passed to you from generation to generation.
Ad 9: Dance with Tantra
Like all my invitations, you may already learn and experience something very useful from them. But only when you read it with your heart and follow with your body... only when you use it, not lose it :)
There are a few passions in my life. One of course is tantra, so being love, making love, giving and receiving love. The other passion is dancing, which is very connected to tantra. Like making love, massage (my other passion ) and dancing are best if I let my mind go. This is not a time for thinking; it is time for feeling. To fall into dance, to follow the sound or even become a sound, to unite with the music. Being tuned like an instrument, fully harmonised with the music. Here and now. Letting go all your thoughts. When we are able to be in that state there is more space for our heart, for our body. Then it is easier to make the connection. Deepening into ourselves... into others.
This is my journey that I would like to share at this workshop with you.
To get more connected we will use some tantric methods like shaking off stress, dancing with blindfolds, different music and movements activating different glands, hormones and different chakras. We will use various touches and approaches. We will awake ecstatic dance in you :)
Ad 10:
Communication of Love.
Do you know the tantric way of communicating? Do you know your and your partner's 'love language'? Do you know that when bodies are talking to each other they can easier find solutions, even in the areas of our life where there weren't any? Do you know body intelligence? Do you use it ? Do you know that we often 'talk' via emotions? Do you know that we often do not understand each other because we talk in different love languages and we're not even aware of it ?
Can you imagine how much you could improve your life and your relationship if you knew the answers to these questions?
In this workshop we will explore the answers to those and other questions. We will do exercises in tantric and body communication. We will do things to find out what your and your partner's love languages are, and then exercise using them.
Your life could become more understandable than ever before!
As always, just a few things that everyone should learn but unfortunately very few do :/
Ad 11: Preparing for Awakening Kundalini energy.
Kundalini Energy, serpent power, is the strongest energy available to experience by the human body. In some cultures, awakening the Kundalini energy is recognised as enlightenment, a blessing, the goal of life, and biggest liberation...
Suddenly all your senses are 1000% awake. You may see, feel, experience things what you were never before aware of. Your ecstasy may shift to another, higher level. Intensity of life at that state may increase to the point that it may scare you.
 Be prepared. Be aware. Observe and accept.... or even better - permit yourself to be. To be who you really are. Recognise the god/goddess within - feel it and become one. Life will never be the same. You're not alone.
Ad 12: Journey to Awaken the Senses.

Listen to the quiet whispers of your own body.
Shhhh.....


When we fully experience our senses, we enter into the heart, into love with existence. And instead of thinking about and analysing the world, we love it, we feel it, we become a part of it. We experience the bliss, ecstasy and deep fulfilment that can come to us through our senses.

To practise this, we do a ritual that awakens each sense in turn and allow ourselves to absorb this bliss in our hearts. This is a totally yummy, delicious and deep meditation that touches the body, heart and soul. For anyone who wants to expand the experience of their senses or use the body as a gateway to the self. Done to each other it is a great way to connect and feel gratitude and more love and sympathy for your partner. It awakens the child in us, a child who is playing the adult games of love...
Ad 13: "Magic of Tantric Massage" Introduction to tantric massage
This workshop is composed in such a way that you can learn and feel what sacred touch is, so that you can allow healing energy of love into your body and life.

Mastering the art of giving and receiving tantric massage is opening us on many levels:

- It helps to recover energy

- Teaches us sacred touch

- Raise awareness of the body

- Is an Introduction to tantric sex

- Develops our potential for love.


It is not possible to mention all the benefits of tantric massage but first of all it is an experience of deep inner joy, bliss, cleansing, peace and ecstasy. It is the experience of being whole. We will mainly focus on the feelings in the body and not only on the techniques . First of all, we want to ensure that participants will experience touch, that they open up for receiving and giving on the body level, that they open up for feeling the pleasure of being a giver and receiver of a massage.

We want to go deep into the levels of feeling pleasure, bliss, and flow of the love energy. We want to free all the tension from our bodies, let them go away to make more space in the body, to make in the place of the blockages space for the flow of life energy.
Ad 14:
Closing and sharing of the whole course
[Nederlandse
partieel

vertaling]
Voor vragen schroom niet te mailen naar mgriks@gmail.com ,
Als u wilt lezen, zelfs meer gedetailleerde beschrijving van de workshops kan je mijn boek hier lezen:
http://tantramovement.blogspot.ro/2016/10/all-aspect-of-life-all-aspect-of-tantra.html
Deze cursus als geheel is gecreëerd om je te helpen op jouw weg naar innerlijke extase, gelukzaligheid en genezing.
Ben je klaar voor de grootste verandering in je leven? Ga voor intensieve transformatie van Sexualiteit en Liefde tot een hoger niveau.
Een lijst van wat er in de cursus meegenomen kan worden. De keuze van 14 workshops ( die duurt 3,5 uren elke workshop) zal afhangen van de energie en behoeftes van de groep.
Na die eind van die cursus kan je je School Of Tantra Movement eerste level certificaat krijgen.
Meer gedetailleerde beschrijving kun je onder lezen:
1 Taste of Tantra. Introductie tot praktijk
2 Het bewustzijn verruimen. Hier en nu zijn.
3 Van jezelf houden. Herken je innerlijke geliefde.
4 Heilige energie. Aanbidden van je heilige lichaam, je wilde ziel herkennen.
5 Mannelijke en vrouwelijke energie.
6 Theorie over praktijk. Tips om je relaties te verbeteren met jezelf, je partner, met anderen, met dieren, de natuur en het hele universum.
7 Dans met Tantra
8 Communicatie van Liefde
9 Heilige sexualiteit.
10 Voorbereiden op Kundalini energie.
11 Reis om de Zintuigen te Ontwaken.
12 Introductie tot Tantrische massage.
Meer gedetailleerde beschrijving kun je hieronder lezen:
Ad 1: "Taste of Tantra" - Introductie tot de praktijk
In deze introductieworkshop geven we kleine voorbeelden van eenvoudige, veilige oefeningen die je later kunt blijven beoefenen met jouw partner of in je eentje. Iedereen die de instructies van deze introductie volgt kan snel en dramatisch haar/zijn leven verbeteren. We laten je proeven wat tantra is, en wat we onderwijzen als een gehele cursus bij de School of Tantra Movement. Een beetje van alles:
- Theorie; wat tantra voor ons betekent en ons praktische gebruik ervan - Seksuele meditatie - Herkennen en trainen van de bekkenbodemspier - Open communicatie - Herkennen van jouw Innerlijke Man en Innerlijke Vrouw - De zintuigen ontwaken
- Samen ademhalen in Shiva Shakti positie
Ad 2: Verruiming van Bewustzijn
We nodigen je uit om de ruimte te creeren om bewustzijn te verruimen. Je zult ontdekken:

Wat bewustzijn is? Hoe ervoor klaar te zijn om je te openen voor volledig bewustzijn ? Hoe op bewuste wijze de blokkades op te lossen en jezelf te openen voor de stroom van de energie van Liefde? Hoe we in het dagelijkse leven ons innerlijke bewustzijn kunnen ontwikkelen en cultiveren ?

Het verruimen van bewustzijn is een van de hoofddoelen van tantra. In deze workshop gaan we het bewustzijn van het ?Hier en Nu? ontwaken, ontdekken, verkennen en verruimen.

Bewustzijn van vrouwelijke zowel als mannelijke energie, bewustzijn van de getuige (observator), bewustzijn en energie.

Deze workshop kan je ogen, hart en geest openen op een manier waarbij je nooit meer hetzelfde bent.

In deze workshop zouden we uit de volgende oefeningen kunnen kiezen:

1. Kundalini OSHO dynamische meditatie, gevolgd door een geleidde ontspanning (korte versie)
2. De handen te openen door de intelligentie van het lichaam
3. Handen te voelen
4. Het reinigen van Auras
5. Golf massage
6. Het herkennen van de innerlijke man en innerlijke vrouw meditatie
7. Ademen - langzaam en sterk
8. Uitbalanceren van energien in de lepel positie
Ad 3: Van jezelf houden. Herken je innerlijke geliefde.
Liefde hebben voor onszelf is de basis van echte liefde, wanneer we van onszelf houden, kunnen we pas echt van anderen houden. Wanneer we ons goed voelen over onszelf, zullen we het zelfvertrouwen hebben dat nodig is om in liefde naar anderen te handelen.
Om echt van onszelf te houden zal de liefde vergroten met onze partners, familie, dieren, natuur, de planeet en het hele universum.
Het heeft niets te maken met egoïsme, maar juist met de expansie van liefde op een gezonde manier.

Ad 4: Heilige energie. - Het aanbidden van je hele lichaam, je wilde ziel herkennen.
Samen creëren we een veilige ruimte en samen ervaren we transformatie processen. onthoud wel dat de echte verandering buiten je comfort zone ligt. We werken in de groep, in paren en individueel. Op deze dag gaan we focussen op de energie flow die door het lichaam stroomt, hoe we die ervaren en hoe we die kunnen inspireren en cultiveren. Wat blokkeert ons en hoe kunnen we die blokkades bewust doordringen? Het Tantrische pad opent ons om onze eigen, onze partners en de diepe energie levels van de groep te ervaren.
Dankbare Tantrische en seksuele Tao technieken, we worden ons bewust van de subtiele energieën die ons verbinden met het schijnbare tegenovergestelde: geest en materie, seksualiteit en spiritualiteit, licht en donker, bewust en onbewust, mannelijk en vrouwelijk.
Door de sleutels naar de deuren van verbindingen te gebruiken, krijgen wij onze innerlijke kracht terug, en geven we richting aan de flow van onze energie.
Ad 5: Mannelijke en vrouwelijke energie
Tegenwoordig zijn niet zo veel mensen zich ervan bewust dat er mannelijke en vrouwelijke energie in ons bestaat. Het maakt niet uit van welk geslacht we zijn, van evenwicht tussen deze energieën hangt onze gezondheid, onze tevredenheid, ons geluk en vervulling in onze relaties af.
Tijdens deze workshop zullen we onze innerlijke vrouw en man in ons ontmoeten. We zullen hun energieën herkennen. We zullen van hen horen hoe het is om in ons te leven, wat hun behoeften zijn, welke zorgen er zijn.

Hoe kunnen we hun (ons) leven verbeteren…
Daarnaast zullen we de verschillen tussen mannelijke en vrouwelijke lichamen leren kennen. We zullen leren hoe ze te benaderen op de manier dat mooie seksuele energie van liefde vrij zal stromen, niet geforceerd of opgedrongen zal worden aan iemand en niet geblokkeerd zal zijn door verkeerd gedrag.
Zoals van al mijn uitnodigingen, kun je alvast iets heel nuttigs ervan leren en ervaren. Maar alleen wanneer je het ook met je hart leest en met je lichaam volgt… alleen wanneer je het gebruikt, niet verliest :)
Er zijn enkele passies in mijn leven. Eén daarvan is natuurlijk tantra, dus liefde zijn, liefde bedrijven, liefde geven en ontvangen. De andere passie is dansen, wat zeer verbonden is met tantra. Net zoals bij liefde bedrijven, massage (mijn andere passie) en dansen is het beste om mijn geest te laten gaan. Dit is geen tijd voor denken. Het is tijd voor voelen. Om in dans te vallen, het geluid te volgen of zelfs een geluid te worden, te verenigen met de muziek. Gestemd zijn als een instrument volledig geharmoniseerd met de muziek.
Hier en nu. Al je gedachten laten gaan.
Wanneer we in staat zijn om in die toestand te zijn is er meer ruimte voor ons hart, voor ons lichaam.
Dan is de verbinding makkelijker.
Verdieping in onszelf… in de anderen.
Dit is mijn reis die ik met jullie wil delen in deze workshop. Om meer verbonden te raken zullen we sommige tantrische methoden gebruiken zoals het afschudden van de stress, dansen met blinddoeken om, verschillende muziek en bewegingen die verschillende klieren, hormonen en chakras activeren. We zullen verscheidene aanrakingen en benaderingen gebruiken. We zullen ecstatische dans in jou ontwaken :)

Ad 7: Theorie over praktijk. Tips voor het verbeteren van de relatie met jezelf, met jouw partner, met anderen, met dieren, heel de natuur en het gehele universum.
Dit is meer een lezing dan een workshop. Als tantra nieuw voor je is en je meer wilt ontdekken, voelen en zien wat er voor jou is, is dit goed voor jou om aan deel te nemen. Er zal ruimschoots tijd zijn voor vragen en antwoorden.
Ad 8: Communicatie van Liefde
Nieuwe
workshop in de School Of Tantra Movement
Ken je de tantrische manier van communiceren?
Ken je jouw en jouw partners 'liefdestaal'? Weet je dat wanneer lichamen met elkaar aan het praten zijn ze makkelijker oplossingen kunnen vinden, zelfs in de gebieden van ons leven waar er geen waren?
Ken je
lichaamsintelligentie
? Maak je er gebruik van?
Weet je dat we vaak 'praten' via emoties? Weet je dat we elkaar vaak niet begrijpen omdat we in verschillende liefdestalen praten en we ons er niet eens van bewust zijn?
Kun je je voorstellen hoe zeer je jouw leven en jouw relatie zou kunnen verbeteren als je de antwoorden kende op deze vragen?
Tijdens deze workshop zullen we de antwoorden op deze en andere vragen onderzoeken. We zullen oefeningen in tantrische en lichaamscommunicatie doen. We zullen dingen doen om erachter te komen wat jouw en jouw partners liefdestalen zijn, en dan oefenen ze te gebruiken.
Jouw leven kan begrijpelijker worden dan ooit tevoren!

Als altijd, slechts enkele dingen die iedereen zou moeten leren maar helaas slechts weinigen doen :/


Ad 9: Heilige Seksualiteit

In deze workshop maken we een reis in het verleden, waarbij we onze herinneringen gaan helen die aan onze seksualiteit gekoppeld zijn. We leven in een maatschappij waarin seks vaak wordt beschouwd als iets vies of slechts, waardoor we een schuldgevoel en schaamte in onszelf ontwikkelen. We gaan onze wonden helen met de intentie om goddelijkheid en trots terug te brengen, niet alleen in onze genitalieen, naar het gehele concept of seks in ons leven. We gaan onszelf bevrijden van alle stereotypen die onze liefde tegenhouden.
Volgens tantra ligt de menselijke seksualiteit in het centrum van spiritualiteit. Gedurende de afgelopen millennia lag onze focus op voortplanting. De hele waarheid was alleen beschikbaar voor enkelen van ons. Momenteel is onze menselijke staat van bewustzijn volwassen genoeg waardoor de waarheid van goddelijke seksualiteit toegankelijk is geworden voor ons allemaal.
Ons bewustzijnsniveau gaat in het huidige moment voorbij aan de cirkel van materialistische activiteiten en ervaringen, deze groeit samen met de energie van de aarde. Oude meesters openbaren oude mysteries, die voorheen alleen beschikbaar waren voor de elite. Gebruik maken van deze verborgen kennis zou een oplossing kunnen zijn voor vele problemen die we zowel als mensheid als individu tegenwoordig tegen het lijf lopen. Aan de andere kant hebben we op dit moment een breeds scala aan pornography beschikbaar, die massaal een vertekend beeld geeft van menselijke seksualiteit. Op een brede schaal worden we plat gegooid met seksualiteit die is ontdaan van schoonheid, heiligheid, kracht en intimiteit….
Bij de workshop krijg je de kans om diepgaand antwoord aan jezelf te geven op de volgende vragen:
- Wat is het verschil tussen heilige liefde en gewone seksualiteit?
- Hoe kan ik toegang krijgen tot heilige seksualiteit in mijn leven?
- Op welke manier, gebaseerd op heilige seksualiteit, kan ik vormgeven aan mijn reactie ten opzichte van mezelf, met een partner, met andere mensen, met de natuur en het gehele universum?
Deze vragen zullen geen keurig voorverpakte antwoorden opleveren, echter in een serie workshops bieden we de mogelijkheid om de methoden te ervaren die je kunnen helpen met het uitbreiden van je bewustzijn binnen het veld van heilige seksualiteit.
Tijdens de workshop zullen we de focus leggen op het opheffen van concepten en blokkades die zich hebben opgestapeld rondom het onderwerp seksualiteit. We gaan patronen herkennen die we hebben overgenomen van familie, school, de maatschappij, Hollywood films etc. Om heilige seksualiteit te herkennen, zullen we onze onwetendheid langzaam opheffen.
Om dit te bereiken zullen we de volgende methode gebruiken:
- Beweging
- Meditatie
- Aanraking en massage
- Ademhaling
- Spelen
- Communicatie
Je mag een intieme relatie met jezelf opbouwen.
Je mag verrijking vinden in een relatie op een hoger niveau met je partner.
Je mag de levenspartner en liefde van jou dromen aantrekken.
Je mag de wonden helen van je seksuele leven en van de levens die aan jou zijn doorgegeven van generatie op generatie.
Ad 10: Voorbereiden op Kundalini energie.
Kundalini Energie, ofwel slangen kracht, is de krachtigste energie mogelijk om te gebruiken in het menselijk lichaam. In sommige culturen wordt het ontwaken (wakker schudden) van de Kundalini energie beschouwt als verlichting, zegen, een levensdoel, grootste bevrijding ....

Plotseling kunnen al onze zintuigen ontwaken op 1000%. Je zou dingen kunnen zien, voelen en ervaren waar je je nog nooit eerder gewaar van bent geweest. Je extase zou kunnen verschuiven naar een hoger niveau. Intensiteit van leven in zo?n staat kan toenemen tot een punt waarop het je beangstigd. Wees voorbereidt, wees gewaar, observeer en accepteer ...

...of nog beter sta jezelf toe te zijn. Te zijn wie je werkelijk bent. Herken God/Godin van binnen, voel het en wordt er een mee. Leven zal nooit meer hetzelfde zijn. Je bent niet alleen.
Ad 11: Reis om de Zintuigen te Ontwaken.
Luister naar de zachte fluisteringen van je eigen lichaam.
Shhhh.....

Wanneer we onze zintuigen volledig ervaren, treden we het hart binnen, in de liefde voor het bestaan. En in plaats van te denken over de wereld en de wereld te analyseren, houden we ervan, voelen we het, worden we er deel van. We ervaren zaligheid, extase en diepe vervulling die tot ons kan komen door onze zintuigen.
Om dit te beoefenen, doen we een ritueel die ieder zintuig op zijn beurt ontwaakt en staan we onszelf toe deze zaligheid in onze harten te absorberen. Dit is een heerlijke, zinnelijke en diepe meditatie die lichaam, hart en ziel raakt. Voor iedereen die de ervaring van hun zintuigen wil uitbreiden of het lichaam wil gebruiken als een poort naar het zelf. Bij elkaar gedaan is het een geweldige manier om te verbinden en dankbaarheid en meer liefde, sympathie te voelen voor je partner. Het brengt het kind in ons naar boven, een kind dat de volwassen liefdesspellen speelt…
Ad 12: "Magic of Tantric Massage" Introductie tot tantrische massage workshop
Deze workshop is zo samengesteld dat je kunt leren en voelen wat heilige aanraking is, zodat je helende energie van liefde kunt toelaten in jouw lichaam en leven. De kunst van het geven en ontvangen van tantrische massage eigen maken opent ons op vele niveaus:
- Het helpt om energie te herstellen
- Het leert ons heilige aanraking
- Het verhoogt ons bewustzijn van het lichaam
- Het is een introductie tot tantrische seks
- Het ontwikkelt onze potentie voor liefde

Het is niet mogelijk om alle voordelen van tantrische massage op te noemen, maar allereerst is het een ervaring van diepe innerlijke vreugde, zaligheid, reiniging, vrede en extase. Het is de ervaring van heel zijn. We zullen voornamelijk aandacht besteden aan de gevoelens in het lichaam en niet alleen aan de technieken. Allereerst willen we verzekeren dat de deelnemers aanraking zullen ervaren, dat ze zich openen voor ontvangen en geven op lichamelijk niveau, dat ze zich openen voor het voelen van het plezier van het zijn van een gever en ontvanger van een massage. We willen diep de niveaus van het voelen van plezier, zaligheid en stroming van de liefdesenergie binnengaan. We willen alle spanning uit onze lichamen bevrijden, de spanningen weg laten gaan om meer ruimte in het lichaam te maken, om in plaats van de blokkades ruimte te maken voor de stroming van levensenergie.
Michal Marek Griks
http://tantramovement.blogspot.nl